Eataly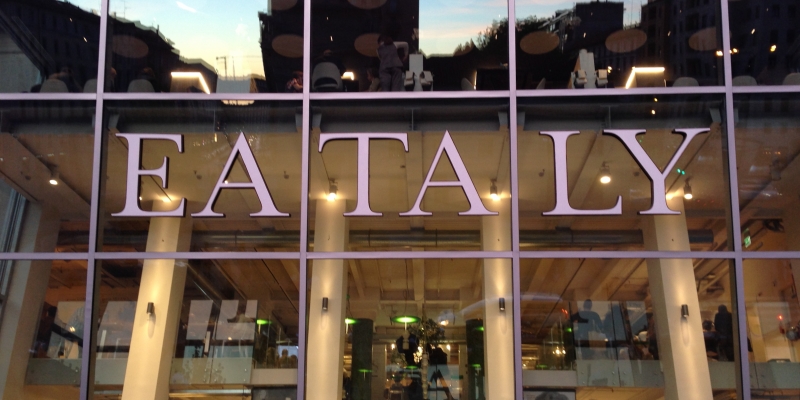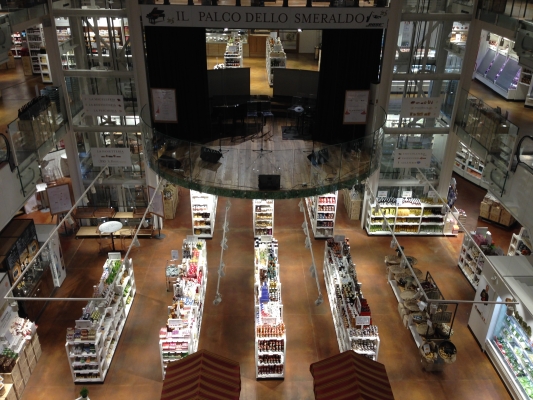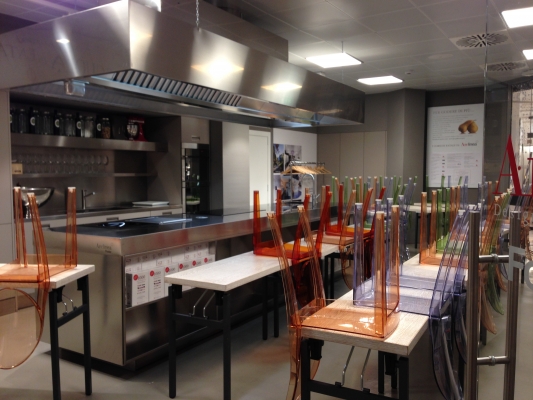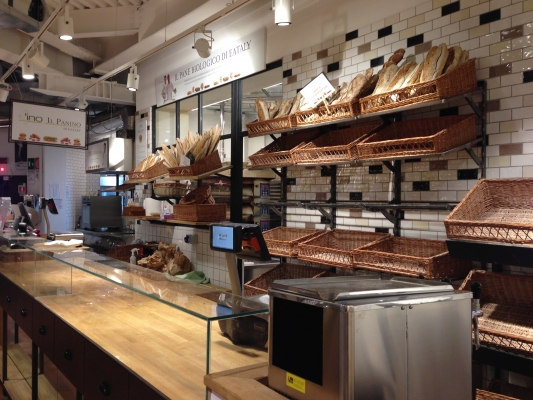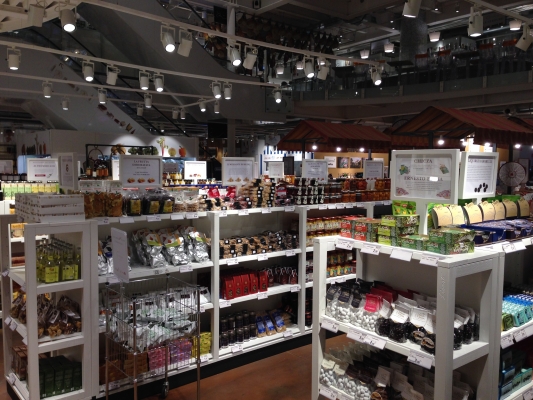 If you haven't heard of Eataly yet, well what can we say, you must be one of the few that hasn't. This international phenomenon has catapulted Italian food into the 21st century. Gone is the image of straw covered bottles of Chianti and red and white chequered tablecloths. Eataly is modern, sleek and very contemporary, while ensuring that traditional food manufacturing processes are strictly adhered to, so that you - the customer - are guaranteed the genuine article! 
The former Teatro Smeraldo has been transformed into a mecca for food lovers. Here under one roof you can buy: fresh seasonal fruit and vegetables from Northern Italy; cakes; biscuits; chocolates; jams; biscuits; honey; coffee; milk; butter; yoghurt; cooked meats; cheese (watch in awe as whole rounds of Parmesan are opened and divided); mozzerella; ricotta; water; soft drinks; fruit juices; wine; beer; meat (both raw and cooked ready to be taken away); fish from Liguria, the Adriatic and Tirrenio; 14 different types of organic bread; foccaccia; pasta; rice; cereals, oil and vinegar. Everything you could possibly need, including a whole section of kitchen equipment and tableware on the ground floor. Oh, and we forgot to mention, you can purchase everything online and have it delivered to your door. 
If you are feeling peckish as you walk around the store there are a series of small restaurants that offer delicious freshly cooked dishes. Each restaurant specialises in something different, whether it be soups and salads, freshly roasted meat, pasta, pizza, pastries or fried fish, meat, cheese and vegetables. You will just have to keep going back to try them all! 
Eataly maintains that its main goal is to "demonstrate that high-quality products can be made available to everyone: easy to find and at affordable prices" as well as communicating "faces, production methods and stories of people and companies who make the best Italian high quality food and wine." So far it seems to being a good job. 
To celebrate the history of this wonderful building, ex Teatro Smeraldo, a central stage hosts live musical performances, reading and performances by established and emerging artists. If you want to try simply send an email to palcosmeraldo@eataly.it.
Enjoy!
Piazza XXV Aprile, 10 20124 Milan
Location