Terrazza Triennale 'Osteria con Vista'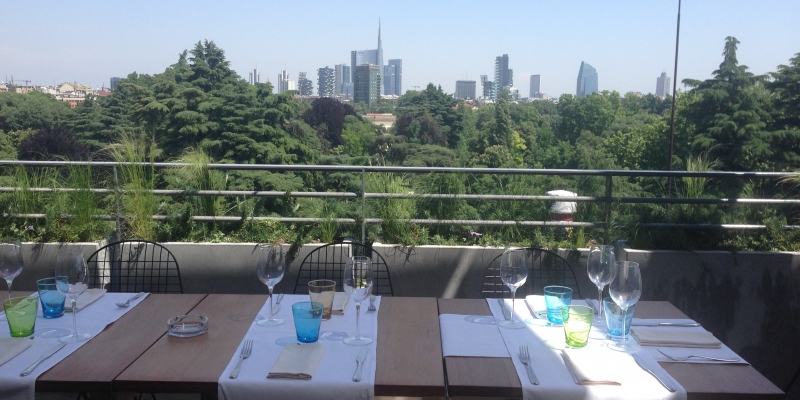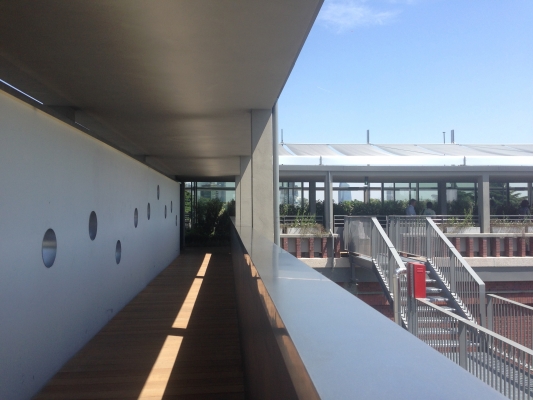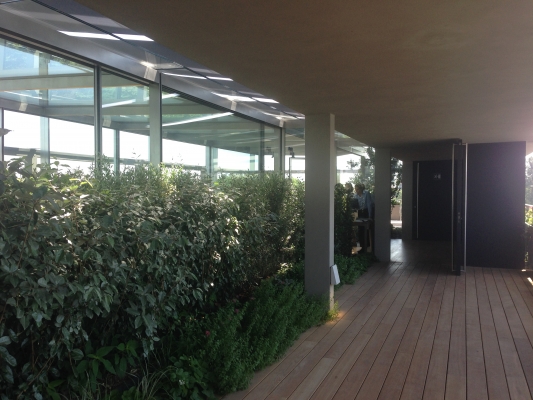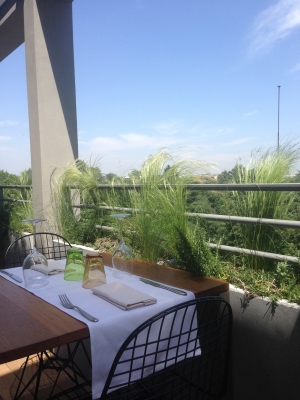 High above Milan overlooking Parco Sempione with a clear view of the Unicredit building in the distance, is Osteria con Vista at the Triennale - Milan's Contemporary Art Museum. This amazing restaurant located on the roof of the Triennale is a wonderous display of glass, wood, light and shade. Modern, sleek, with Central Park views and West Coast inspired decor, Osteria con Vista is a 'must' for lunch, dinner, an aperatif or Sunday brunch with friends and/or family. However, don't be fooled; getting a reservation can be almost as difficult as getting one at a top restaurant in London, especially during the weekend in the warmer months. 
As you walk into this glass walled restaurant you are greeted by a plethora of aromatic herbs which, along with wild grasses, form a wonderful backdrop to this elegant restaurant. During the warm weather the glass walls are opened up to allow guests to dine outside on the terrace, and a 400m2  awning is used to protect guests from the sun during the day and removed at night to allow them to gaze at the stars. If you don't want to stay for dinner why not simply sample one of Luis Hidalgo's famous cocktails and watch the sunset. 
Not only is the location unique, but the food is also delicious. The restaurant is run by Ugo Fava, whose aim was to recreate the 'osteria' concept of simple traditional Italian dishes and have Michelin star Chef Stefano Cerveni artfully give them a contemporary twist. Something the pair have expertly managed to carry off with mouthwatering success! The Osteria con Vista offers a great selection of vegetarian, meat and fish dishes as well as desserts, although the lunch menu offers a more limited choice (and only two desserts). 
Osteria con Vista also caters for little ones and offers tasty morsels that all children love especially for Sunday brunch. Parents will also be pleased that the restaurant also offers baby changing facilities, although you have to walk down several flights of stairs to access them. 
Osteria con Vista is open Mondays to Sundays from 11.30am to 12.30am.
info@terrazzatriennale.org
Location